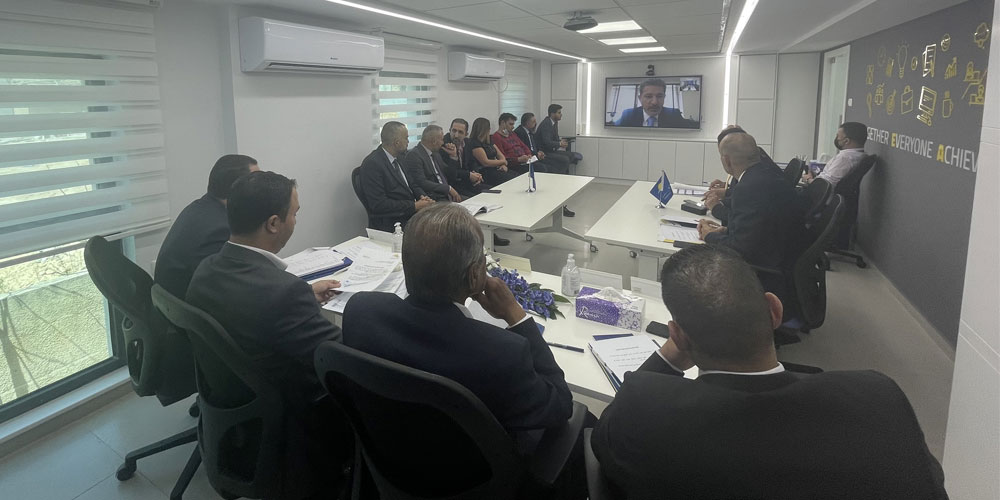 Ramallah: Al Mashreq Insurance Company's General Assembly held its ordinary and extraordinary annual meeting on Tuesday, May 4, 2022, at the company's headquarters in Ramallah. The meeting was broadcast via video conference to the company's shareholders in several countries and locations inside Palestine and abroad. This is done in the presence of the Board of Directors' members, the representative of the companies' controller in the Ministry of National Economy, the external auditor, and representatives of the General Management of Securities and the Insurance General Management from the Palestine Capital Market Authority, the Palestine Exchange, and the holders of 96.57% of the company's shares.
The Companies Controller's representative announced the legality of the session. He also expressed the thanks of the Ministry of National Economy and the Companies Controller to Al Mashreq Insurance Company and all its employees for their integrating roles with the government authorities, as the company showed a great deal of societal and moral commitment in the face of the difficult circumstances the country is witnessing.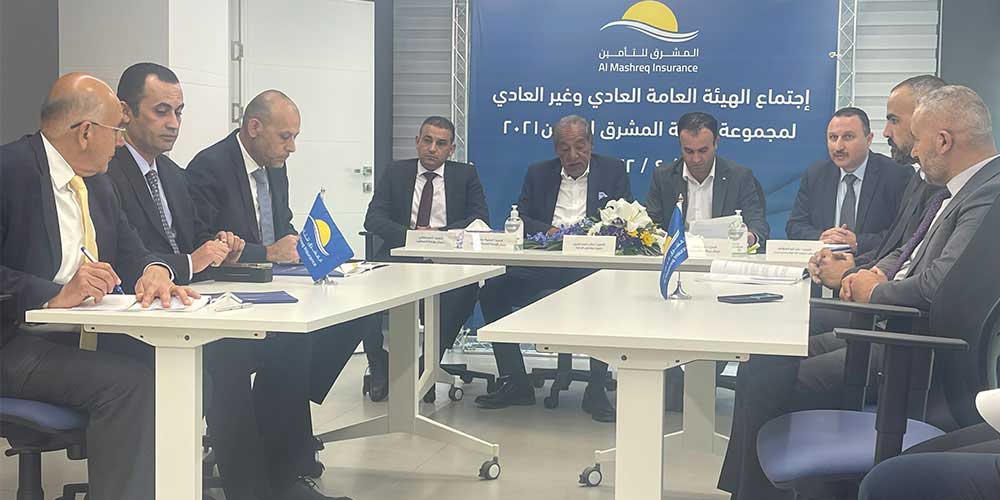 At the outset, Mr. Jalal Nasser El-Din, the Board of Directors' chairman, welcomed all the attendees. He also added that in light of the volatile political and economic conditions witnessed in the past year, the company's Board of Directors continued to move forward with determination and confidence to enhance the company's financial results, expand its investments, and create projects and new job opportunities.
The Extraordinary General Assembly approved raising the company's capital by one and a half million dollars, and the Ordinary General Assembly approved the Board of Directors' recommendation to distribute cash dividends of 2.5% of the capital to shareholders and in-kind profits of 27.27% by distributing free shares to the company's shareholders.
Mr. Ayoub Zurub, the company's CEO, explained that Al Mashreq Insurance aims to achieve its mission and vision by planning and following up on all work activities and actively contributing to the development of the insurance industry in Palestine. Thus, all the company's staff work to provide distinguished services to its insured audience. The company's management is also working on employing advanced technologies and information technology in digital transformation and automating all of the company's programs, through which innovative services are provided in creative ways that meet the needs and requirements of the Palestinian market and contribute to creating new job opportunities, especially for the youth category.
At the end of the meeting, Nasser El-Din expressed his appreciation to all regulatory and governmental authorities and relevant institutions for their cooperation and continuous support for private sector institutions and their keenness on their success as one of the basic building blocks of a solid Palestinian economy. He also thanked the Board of Directors of Al-Mashreq Insurance Company and its entire staff, agents, and advisors, who spared no effort to make the company's journey a success and increase its brilliance and prosperity.