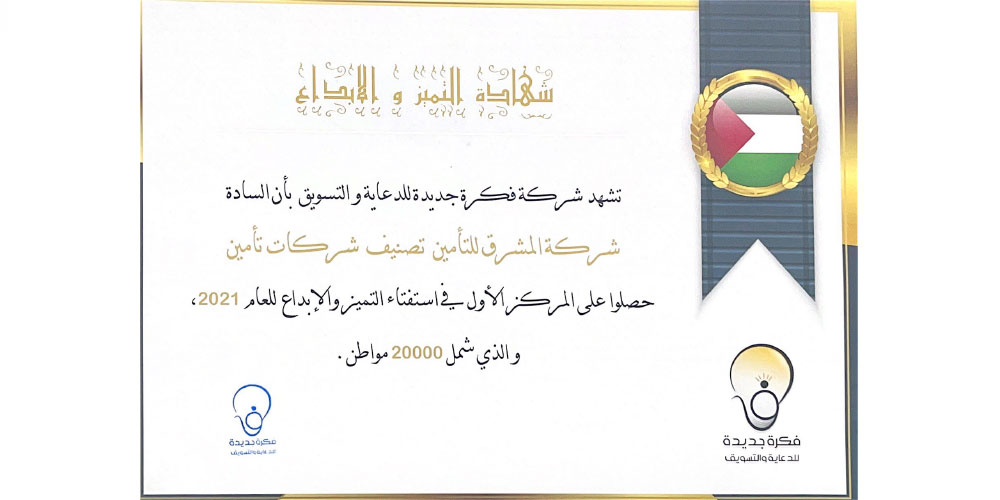 Al Mashreq Insurance awarded the "Best Insurance Company of the Year 2021" award, after it honored the first place among the Palestinian insurance industry companies, according to the Excellence and Creativity Referendum for the year 2021.
The awards were distributed during the awards ceremony, which was held at the Carmel Hotel in Ramallah, to many companies that included many sectors: quality specifications, services, innovation, and commitment to sustainability.
The award reflects Al Mashreq's commitment to ethical and professional insurance towards its insureds, in addition to excellence and innovation in offering, developing and marketing its insurance products that serve the needs of individuals and institutions of all kinds.
Mr. Ayoub Wael Zurub, Board Member and CEO, said, "Al Mashreq Insurance's winning the award for the best insurance company in Palestine is not a coincidence, but is the result of the company's cadres' long effort and continuous commitment over the past years despite their different positions."
Moreover, regarding the quality of services provided to the insureds, Nihad Assad, the company's General Manager, continued, "We are keen with a high degree of interest to provide quality services easily, quickly, and safely to our insureds, which is reflected positively on the company's results and achieves the highest levels of satisfaction for service seekers."
The company is working to keep pace with the rapid developments that the world is witnessing, which are reflected in the phenomenon of information and communication technology. The company successfully digitized most of its, providing communication channels that allow service applicants to acquire them, according to their residence.