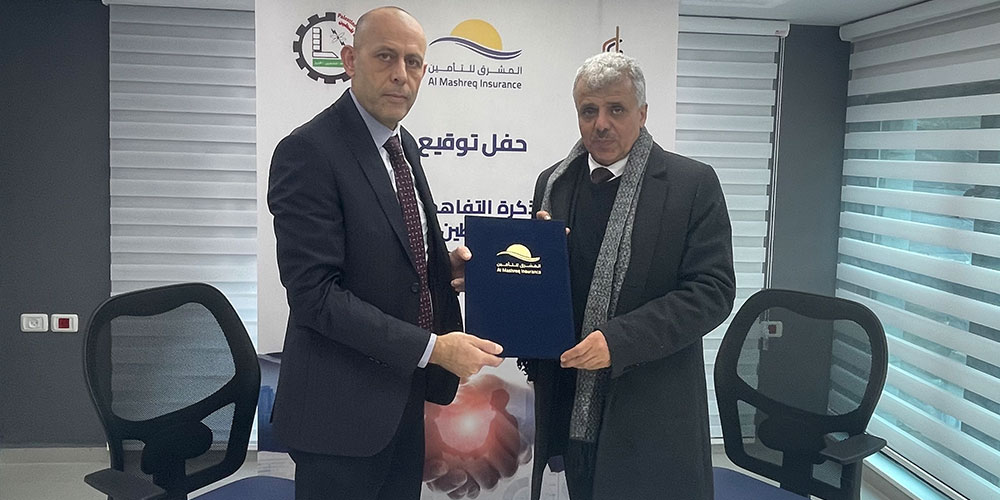 Palestine Polytechnic University and Al Mashreq Insurance signed a memorandum of understanding to enhance cooperation between the two sides within the dual studies program, which aims to develop the university education experience by integrating theoretical education with practical and applied education in Palestinian private sector institutions.
The agreement was signed between the President of Palestine Polytechnic University, Dr. Amjad Barham, and General Manager of Al Mashreq Insurance, Nihad Assad, in the presence of the Dean of the College of Dual Studies, Dr. Musa Irfaiya, representatives of the German Cooperation Agency (GIZ) and representatives of relevant departments from both parties.
The memorandum focuses on enriching the university experience for students, improving their professional level, and providing them with the necessary skills to facilitate their integration into the labor market. As their practical training will lead to the integration of the academic knowledge they obtain at the university with the skills and knowledge that they will acquire through training in Al Mashreq Insurance, which will increase their employment opportunities, reduce the unemployment rate among Palestinian youth and meet the needs of the Palestinian labor market at the same time.
In his turn, Dr. Barham expressed his contentment at signing the memorandum, and stressed that Palestine Polytechnic University seeks by all possible means to strengthen partnerships and understandings with private sector companies to serve the interest of students and enrich their educational experience, in addition to developing their personality by integrating them into the labor market while they are still studying. Dr. Barham also praised Al Mashreq Insurance which occupies a national position in the Palestinian market and works for the advancement of the Palestinian national economy.
For his part, the CEO of Al Mashreq Insurance, Ayoub Zurub, welcomed the signing of the memorandum that would contribute to laying the foundations for close cooperation with Palestine Polytechnic University, and to develop this program for the benefit of students and graduates by refining their professional, personal and leadership skills.
Moreover, Assad pointed out the necessity of linking academic knowledge with the needs of the labor market, which will empower Palestinian youth, improve their chances of competition in the market and enhance their scientific, practical, administrative and communication skills. He has also emphasized Al Mashreq Ins. Support to the Palestinian youth with the aim of qualifying them professionally in order to contribute to building a vibrant economy and sustainable development.
At the end of the gathering, Dr. Barham thanked Mr. Assad for the warm welcoming and hospitality and stressed that this memorandum is the beginning of fruitful cooperation between the university and the company. Al Mashreq Ins. is working to keep pace with the rapid developments witnessed by the world, represented by the phenomenon of information and communication technology. The company has succeeded in transforming most of its services electronically, thus providing communication channels that allow service seekers to acquire them in different ways, according to their locations in an accurate and correct automatic manner.