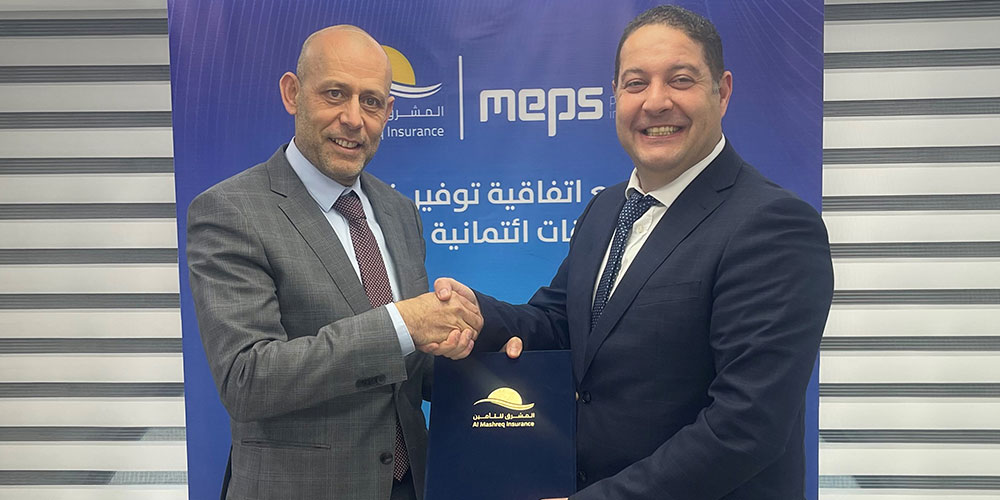 Al Mashreq Insurance Company and Middle East Payment Services (MEPS) have signed an agreement to provide electronic payment services and prepaid cards that will facilitate the process of paying insurance premiums conveniently and securely, anytime and from anywhere without resorting to traditional payment methods such as cash or cheques.
Al Mashreq Insurance GM, Nihad Asaad, and Middle East Payment Services CEO, Mohammed Hilles signed the agreement in the presence of a number of representatives from both parties.
With this agreement, Al Mashreq Insurance is now the first insurance company in Palestine to offer these prepaid cards to its policyholders, taking a step forward towards the company's vision to provide innovative digital insurance services and solutions.
On this occasion, CEO of Al Mashreq Insurance, Ayoub Zurub Ayoub remarked, "The Company always strives to provide the best for its insured audience and to achieve the highest levels of satisfaction through innovation and adaptation of advanced methods. This agreement and cooperation with Middle East Payment Services Company is a true version of our commitment to provide innovative solutions with high quality electronic insurance services that give our insurers a safe experience that enables them to save time and effort."
In the same context, Assad said, "We are pleased to sign the agreement, which confirms our responsibility towards our clients. And as we provide smart solutions and various electronic payment methods, we also ensure that the insured receive the best services and the highest standards of quality and safety." Assad also added, "The technological revolution that the world is witnessing urges us to make changes and reconsider the concept of services and business development so that innovation and creativity become the most important factor of growth, excellence and achieving more successes."
For his part, Mr. Hilles thanked Al Mashreq team for their confidence in the services provided by MEPS Palestine, and stressed that Al Mashreq Insurance customers will be able to use the electronic payment gateway to pay insurance premiums without going to the company's centers, in addition to the possibility of using payment cards at all local and international points of sale and all ATMs.
Hilles concluded that MEPS Palestine is working around the clock to provide easy and secure electronic payment solutions to its customers and customers of its partners from all sectors in Palestine, and pointed out that the company, within the framework of its strategic plan, will launch many new electronic payment products during the year 2023.
By developing innovative solutions, qualifying and training its workforce to improve business performance, Al Mashreq Insurance strives to enhance environmental, social and economic sustainability through its various social responsibility programs.