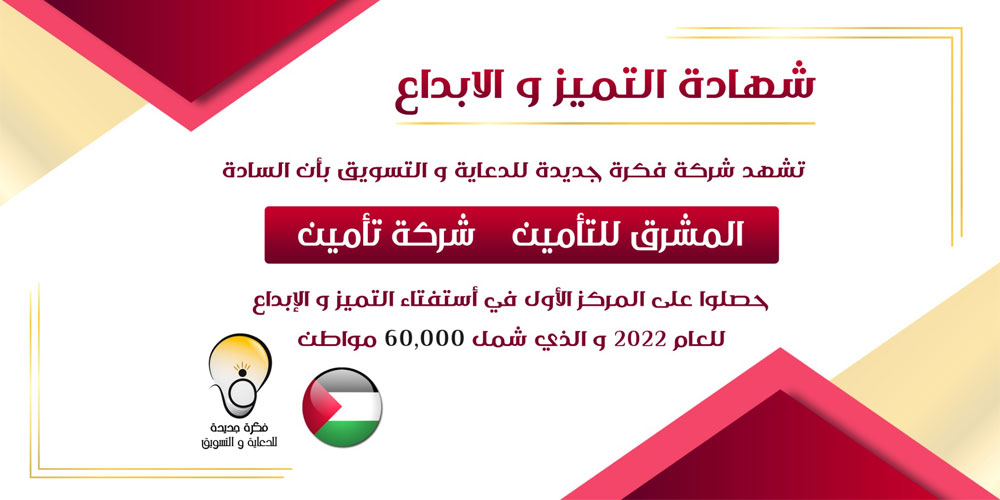 For two consecutive years, Al Mashreq Insurance has won the "Best Insurance Company" award among the Palestinian insurance sector according to the "Excellence and Innovation Survey - 2022".
The ceremony was held at Al Carmel Hotel in Ramallah, where companies from various sectors received awards based on quality specifications, services, innovation and commitment to sustainability.
The award reflects the trust of the Palestinian public and the company's ethical and professional commitment towards them and to all of its insured parties. In addition to excellence and innovation in designing, developing, and marketing insurance products that serve the needs of individuals and institutions of all types.
On this occasion, Mr. Ayoub Zurub, the board member and CEO of the company, expressed his gratitude and appreciation for the Palestinian public and the company's insured parties for their trust, which has always been the first motivator in achieving what has been achieved, and for their continuous efforts towards innovation and sustainability. He also thanked the company's board of directors, employees, agents, and consultants for their efforts and dedication over the years, which support the steady and visionary path towards achieving exceptional achievements in various fields.
Mr. Nihad Assad, Al Mashreq Insurance GM also stated that this award is an expected result of the continuous dedication and commitment of Al Mashreq Insurance Company and team towards the Palestinian audience and clients.