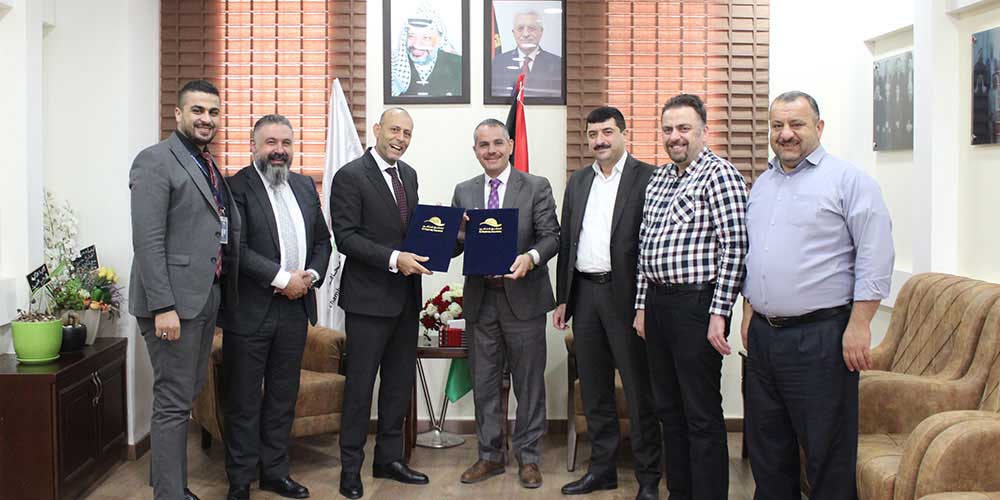 Hebron- the Chamber of Commerce and Industry in Hebron Governorate and Al Mashreq Insurance Company signed an agreement on general insurance, motor insurance, and health insurance for the Chamber. It was concluded yesterday in the Chamber of Commerce hall, in the presence of the Chamber's Chairman, Abdo Idris, the General Manager of Al-Mashreq Insurance, Nihad Assad, and the Chamber's General Manager, Eng. Tariq Al-Tamimi, Executive Director of the Chamber Taher Abdeen, Assistant General Director for Marketing at Mashreq Insurance, Youssef Al-Barghouti, and Director of the Hebron branch, Muhammad Abuatwan.
"History has demonstrated that insurance is very significant and that there would be many problems without it," Idris stated in reference to the signing of the agreement. "The insurance industry is very essential in Palestine." Since the governorate of Hebron is a significant economic center, we aim to enhance the insurance industry's presence there. Furthermore, we hope that Palestinian universities will pay close attention to incorporating insurance into their curriculum so that it becomes a required course for all majors in the near future.
Ayoub Zurub, CEO of Al Mashreq Insurance, praised the signing of the agreement with the Chamber of Commerce and Industry in the Hebron Governorate and emphasized that Al Mashreq has worked since its establishment to provide many innovative and distinguished insurance programs and services in all regions, relying on its technical and administrative staff. Al Mashreq has contributed to the development of various economic sectors in Palestine. Al-Mashreq Insurance also promotes insurance awareness through various community initiatives and services that are implemented continuously by the company.
In turn, Al-Mashreq Insurance's General Manager, Nihad Assad, valued the position of the Chamber of Commerce and Industry in Hebron Governorate and its trust in Al-Mashreq Insurance. In addition, he said, "The Hebron Governorate Chamber is considered one of the pioneering and prestigious institutions in the country, and we are proud to sign the agreement with it. As we realize the intersection between the Chamber's needs and the services provided by the company, we seek to develop joint work between us to provide the best services with a high level of quality."